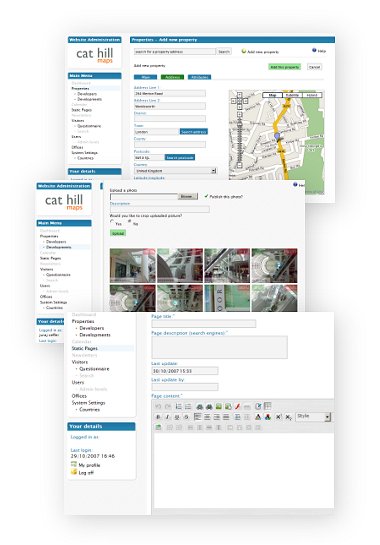 Call us on 020 8687 8195 or contact us via form to discuss your requirements or arrange a demonstration.
Cat Hill Design Estate Agency Website
Cat Hill Estate Agency Software is designed to transform the way Estate Agents sell properties online. Via its state-of-the-art administration (CMS) and geomapping services, it cleverly matches needs of potential customers. Get ahead of the competition.
The software contains everything an estate agency online needs to run a successful business including:
Geo-mapping using Google Maps
Comprehensive and intuitive properties management incl. multi-country support (suitable for agencies managing/promoting properties in various countries)
Creating of PDF documents/brochures "on-the-fly" via CMS
Custom property attributes
Auctions management
Offices/branches management
Calendar - property viewings & events management
Newsletters management
Property RSS feeds
Multiple colour schemes for all admin pages
Integration with existing real estates database providers via feeds
Users' actions logging (amending, deleting of records etc.)
Lightning fast pages load and execution time
Bespoke website identity/front-end design
SEO optimisation (proper use of HTML and CSS, SEO friendly URLs, keywords analysis, sitemaps etc.)
Visitors' profiles
Property search based on a location and/or attributes
Quick (property) search, advanced search, search within search, filtering
Powered by PHP5, MySQL5,(X)HTML, XML, CSS2, JavaScript, Google Maps, AJAX...
Compatible & tested on all major browsers such as Internet Explorer, Firefox, Opera & Safari
CMS and website hosted on a high-accessible server in London. 24/7 status monitoring.
many more ...